Run for Hunter New York Marathon '18
Running the New York marathon to get life-saving research to MPS II boys. Make a difference and support us in this battle!

Gezondheidszorg
Created by :
Mike Broeders
Location:
Breda, Nederland
Share this fundraiser
Support this fundraiser by connecting a new fundraiser to it. All donations will be assigned to the top level fundraiser.
Connected fundraisers (0)
Run for Hunter
Hello all! As some of you may know, Mike and a team from the Stichting Finding a Cure for Hunter Syndrome (of whom are parents of MPS II boys) are running the 2018 New York Marathon to raise funds for Mucopolysaccharidosis type II research. But we need your help… Hunter syndrome, or MPS II, is a life-threatening disease affecting young boys, with often severe damage to the brain and central nervous system. MPS II currently has no cure and most boys die before the age of 14. Having spent almost 4 years developing a gene therapy for Hunter during my PhD (Hélène) and working on a closely related disease called MPS VI (Mike), additional efforts into finding a cure and getting treatments to patients are very close to our hearts! As scientists, we also know how difficult it is to obtain funds to research rare genetic disorders such as Hunter syndrome. As such, we would really appreciate your help and support! Any contribution to Mike and the Finding a Cure for Hunter team would be greatly appreciated to get life-saving research to MPS II boys. We hope you're just as excited to help as we are! Make a difference and help us in our MPS II fight! Thanks in advance. Mike & Hélène --------------------------------------------------------------------------------------------------------------------------------- What is Hunter Syndrome? (Mucopolysaccharidosis type II) Hunter syndrome is a rare and life-threatening genetic disorder affecting boys from birth that causes progressive damage to the brain and central nervous system, to the heart, liver, spleen, joints and bones. In approximately 80% of cases, Hunter syndrome leads to death before the age of 14. What kind of therapy is available? A weekly enzyme replacement therapy is available, which can reduce symptoms, but MPS II boys continue to decline rapidly and their life expectancy does not change. Hence, there really is a need for additional therapies that can target the brain and most other symptoms. What is our goal? Through previous projects of Finding a Cure for Hunter Syndrome Foundation, Erasmus Medical Centre & the Sophia Children's Hospital in Rotterdam have been able to start a new gene therapy research program. This is really promising and provides immense hope for MPS II children and their parents. But to complete this goal and develop new therapies, we still need a large amount of money for research! We therefore hope to raise as much money as possible for the New York Marathon 2018. Make a difference and support us in this battle! Thank you for your support If you would like to get to know what Hunter syndrome is and how it affects families, please have a look at the short documentary by Joshua Davies on the bottom of this page. For more information about Hunter Syndrome and Finding a Cure for Hunter Syndrome Foundation visit http://cureforhunter.nl/ --------------------------------------------------------------------------------------------------------------------------------- Hallo allemaal! Zoals sommigen van jullie wellicht weten, rennen Mike en een team van de Stichting Finding a Cure for Hunter Syndrome (waarvan ouders van MPS II-jongens zijn) de 2018 New York Marathon om geld in te zamelen voor onderzoek naar Mucopolysaccharidosis type II. Maar we hebben uw hulp nodig... Hunter-syndroom, of MPS II, is een levensbedreigende ziekte die jonge jongens treft, met vaak ernstige schade aan de hersenen en het centrale zenuwstelsel. MPS II heeft momenteel geen genezing en de meeste jongens sterven vóór de leeftijd van 14. Na bijna 4 jaar bezig geweest te zijn met het ontwikkelen van een gentherapie voor Hunter tijdens mijn PhD onderzoek (Hélène) en het werken aan een nauw verwante ziekte, genaamd MPS VI (Mike), zijn extra inspanningen om een therapie te vinden en behandelingen voor patiënten te krijgen ons zeer na aan het hart! Als wetenschappers weten we ook hoe moeilijk het is om fondsen te krijgen voor onderzoek naar zeldzame genetische aandoeningen zoals het Hunter-syndroom. Daarom stellen we uw hulp en ondersteuning zeer op prijs! Elke bijdrage aan Mike en de Stichting Finding a Cure for Hunter Syndrome zou enorm op prijs worden gesteld om levensreddende onderzoeken naar MPS II-jongens te krijgen. We hopen dat je net zo enthousiast bent om te helpen als we zijn! Maak het verschil en help ons in onze MPS II-strijd! Bij voorbaat bedankt. Mike & Hélène --------------------------------------------------------------------------------------------------------------------------------- Wat is het Hunter Syndroom? Hunter Syndroom is een zeldzame, levensbedreigende stoffwisselingsziekte. De ziekte treft alleen jongens en openbaart zicht tussen het 1e en het 5e levensjaar, waarna symptomen steeds meer op de voorgrond treden. De symptomen veroorzaken progressieve schade aan o.a. het ademhalingstelsel, het centraal zenuwstelsel, het hart, de lever, de milt, gewrichten en de botten. De ziekte leidt bij 80% tot vroeg overlijden, voor voor het 14e levensjaar. Dit is onacceptabel en daarom zet Stiching Finding a Cure for Hunter Syndrome zich in voor kinderen met deze verwoestende ziekte. Behandeling Er is nu een wekelijks, via het infuus te geven, enzymtherapie. Deze therapie kan de symptomen verminderen, maar de ziekte blijft progressief. Dit verandert ook niets aan de levensverwachting. Duidelijk is dat er een andere therapie nodig is om de hersenen en andere symptomen te behandelen. Toekomst Door eerdere projecten van Stichting Finding a Cure for Hunter Syndrome, heeft het Erasmus MC - Sophia Kinderziekenhuis een onderzoek kunnen starten naar een gentherapie. Dit onderzoek is veelbelovend en geeft hoop op een betere toekomst voor deze kinderen. Maar om dit af te ronden is er nog veel geld nodig. Wij hopen dan ook met de New York Marathon zoveel mogelijk geld in te zamelen. Maak het verschil en help on in dit gevecht! Bedankt voor uw steun. Als je wil weten wat het Hunter syndroom is en hoe het families beïnvloed, kijk dan de korte documentaire van Joshua Davies hieronder. Voor meer informatie over Hunter Syndroom en Stichting Finding a Cure for Hunter Syndrome, bezoek http://cureforhunter.nl/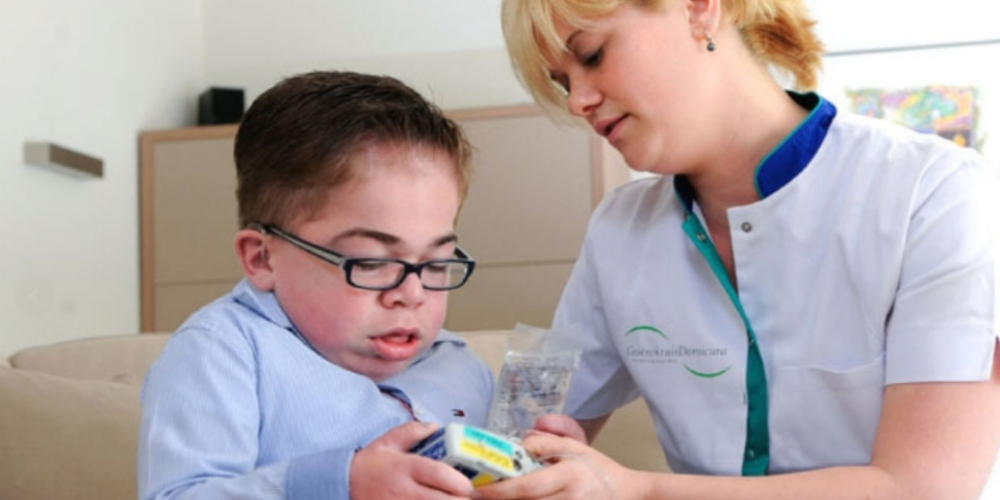 .....................................................................