Support this fundraiser by connecting a new fundraiser. All donations are awarded to the parent fundraiser.
Connected fundraisers (0)
Viking Run for Charity
*English Below* Welkom op de officiële WhyDonate pagina van het CrossFit Zeeburg Viking Run team! Zoals sommigen van jullie misschien al weten, gaan wij (de leden van CrossFit Zeeburg) op 19 mei onszelf uitdagen voor het goede doel, en een van de meest gevreesde obstacle runs van Nederland lopen: The Viking Run! Dit is een hindernissenloop van 13, 19 of zelfs 42 kilometer met meer dan 100 obstakels. Los van het feit dat dit een enorme uitdaging is, gaan we dit doen met een doel. We verzamelen geld voor de Dirk Kuyt Foundation. Deze foundation is opgericht om mensen met een beperking te stimuleren om te gaan sporten en bewegen. https://www.dirkkuytfoundation.nl/ Omdat CrossFit een community-based sport is, met een enorme focus op het mogelijk maken van sport voor zoveel mogelijk mensen, zijn we erg verheugd om deze samenwerking met deze stichting te starten en hen zo veel mogelijk te ondersteunen! En we hebben jullie hulp nodig! Je kunt ons sponsoren tijdens deze run! Op deze manier motiveer je ons nog meer om deze taak te volbrengen en we doneren de volle 100% van het ingezamelde geld aan de DKF. Aarzel niet om te helpen, elke cent is welkom! Dus alsjeblieft, klik links onder het logo op de knop ''Doneer'' en help mee ons doel te behalen! We houden jullie up-to-date met blogs over voeding, voorbereiding en andere gerelateerde onderwerpen, deelnemersinterviews en nieuws! U kunt onze ontwikkeling volgen op deze paginas: CrossFit Zeeburg op Facebook: https://www.facebook.com/CrossFitZeeburg/ CrossFit Zeeburg Website: http://crossfitzeeburg.com/iron-viking-run-2018/ Namens de Dirk Kuyt Foundation en het CrossFit Zeeburg Viking Run Team: Heel erg bedankt! - - - - - - - - - - - - - - - - - - - - - - - - - - - - - - - - - - - - - - ***English version*** Welcome to the official WhyDonate page of the CrossFit Zeeburg Viking Run team! As some of you already know, on the 19th of May we (the members of CrossFit Zeeburg) are going to challenge ourselves for charity and run on of the most epic obstacle courses in The Netherlands: The Viking Run! This is a 13, 19 or even 42 kilometer obstacle run with over 100 obstacles. Besides the fact that this is a huge challenge itself, we are going to do this with a goal. We are raising money for the Dirk Kuyt Foundation. This is a foundation that was established to encourage people with disabilities to play sports and exercise. Read more about the foundation here: https://www.dirkkuytfoundation.nl/ Since CrossFit is a community based sport, with a huge focus on making sport possible for as many people as possible, we are really excited to start this collaboration with this foundation and support them with as much money as we can collect. And the cool thing is: you can help! You can sponsor us during this run! This way you motivate us even more to complete this challenge and we are going to donate the full 100% of the collected money to the DKF. Don't hesitate to help, every penny is welcome! So please, click on the button ''Doneer'' below the logo on the left and help us achieve our goal! We are going to keep you guys up-to-date with blogs about nutrition, preparation and other related topics, participant interviews and news! You can follow our journey to fitness on these pages: CrossFit Zeeburg Website: http://crossfitzeeburg.com/iron-viking-run-2018/ CrossFit Zeeburg on Facebook: https://www.facebook.com/CrossFitZeeburg/ On behalf of the Dirk Kuyt Foundation and the CrossFit Zeeburg Viking Run Team: Thank you so much!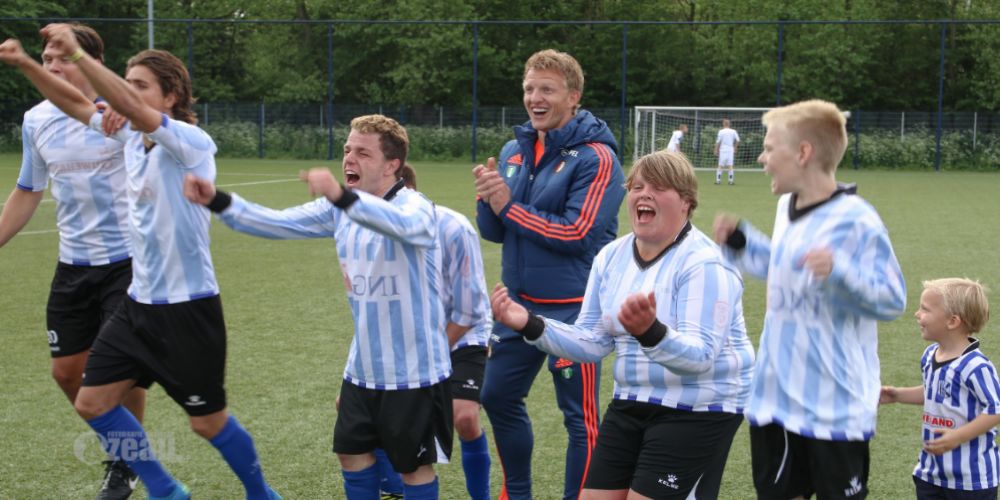 Read more about what the Dirk Kuyt Foundation does here: https://www.dirkkuytfoundation.nl/