Quest for Change! Drijvende denktank zeilend naar circulaire economie
Op 19 november vertrek ik op expeditie naar een duurzamere kleding industrie op het 100 jaar oude tallship de Morgenster! Help me en ondersteun dit project zodat het voort kan zetten wat wij beginnen en bewustzijn te creëren!

Natuur & milieu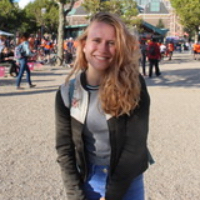 Created by :
Anne-Sophie van Herwijnen
Location:
Amsterdam, Nederland
Share this fundraiser
Support this fundraiser by connecting a new fundraiser to it. All donations will be assigned to the top level fundraiser.
Connected fundraisers (0)
In a few weeks I will sail for a very special experience, called the Quest for Change (part of the great organization Clean2Antarctica), from Cape Verde across the Atlantic ocean to the Caribbean on tallship the Morgenster. During this isolated expedition I will immerse in a business case with 18 other young motivated minds and partner up with 3 textile companies, MUD jeans, My O My en SKOT, to transform this second most polluting industry to a more sustainable one and take serious steps closer to a circular economy! This is not easy, so we will have to think in a new 180 degrees different way towards unconventional solutions, which will be implemented by the three companies.
I set up this crowdfunding campaign to make sure the organization can connect more companies to our young generation, and continue this project and support the C2A Zero Waste education program. Help me to raise awareness and achieve our goals!
I recommend everyone to watch the documentary "The true cost" on Netflix, it's a real eye opener!
Please visit the website www.clean2antarctica.nl, watch trailer or aftermovie and follow us on Facebook!
www.youtube.com/channel/UCoM7AwBpef06reSlvJj-s4g
https://www.facebook.com/clean2antarctica/
https://www.facebook.com/Quest4Change/
Sharing the word and this call to make a Change is highly appreciated:)!!
If you have anymore questions or want more information, please let me know!
Thanks a lot!!
Liefs, Anne-Sophie