Share this fundraiser
Support this fundraiser by connecting a new fundraiser to it. All donations will be assigned to the top level fundraiser.
Connected fundraisers (0)
Met de bakfiets
We did it! De fietselfstedentocht met de bakfiets:12 uur… 235 km… 11 steden… De uitdaging was groot. Bas 12 uur fietsend met de bakfiets en Riemke 12 uur zittend in het bakje van de bakfiets.
De fietselfstedentocht met de bakfiets
Nadat Bas vorig jaar, samen met zijn fietsmaatjes, de fietselfstedentocht had gefietst, grapte Riemke een dag later tegen Bas: 'Als jij een bakfiets regelt, kan ik volgend jaar ook mee doen!' Wat begon als een grapje, begint nu steeds meer serieuzere vormen aan te nemen. Door gezondheidsproblemen (waaronder lastig behandelend astma en een vorm van reuma) is Riemke zelf niet in staat om deze tocht te fietsen. Er is een tijd geweest dat Riemke fanatiek met racefiets op pad ging. Tegenwoordig is ze al blij als ze op een goede dag, het liefst met wind mee en in een rustig tempo, naar het winkelcentrum om de hoek kan fietsen en weer terug. De fietselfstedentocht commissie heeft het bakfiets idee goedgekeurd. Ook zijn Bas en Riemke ingeloot om aan de fietselfstedentocht van 21 mei 2018 deel te mogen nemen. Cycloon fietskoeriers heeft een geschikte Bullitt bakfiets met zitje in bruikleen beschikbaar gesteld. Zodat Bas en Riemke kunnen gaan trainen en, als alles meezit, samen de fietselfstedentocht te beleven. Samen fietsen met de bakfiets bevalt Bas en Riemke zo goed dat ze heel graag een eigen Bullitt bakfiets aan zouden willen gaan schaffen. Om al fietsend en genietend van de buitenlucht en het buitenzijn samen plezier te kunnen hebben. En het mooiste vinden Bas en Riemke nog als ze met hun fietsavontuur geld in kunnen zamelen voor hun eigen Bullitt bakfiets. Zodat Bas, Riemke en hond Woodstock vaker met de bakfiets op pad kunnen gaan. In plaats van altijd maar de auto te moeten te pakken. Gun jij ons een eigen bakfiets, zodat wij nog veel meer van dit soort mooie momenten samen kunnen meemaken? Doe dan een donatie via deze pagina. Wij zijn je dan heel erg dankbaar.
Bestemming donatie
Jouw donatie wordt besteed aan het aanschaffen van een (oranje) Bullitt bakfiets met toebehoren.
With the cargo bike (met de bakfiets)
12 hours ... 235 km ... 11 cities ... together with the cargo bike. For whom do you think the challenge is bigger? For Bas, doing 12 hours cycling with the cargo bike or for Riemke 12 hours sitting in the bin of the cargobike. The 'fietselfstedentocht (literally: eleven cities cycling tour) with the cargobike. After Bas last year, along with his cycling buddies, had cycled the cycling city tour, Riemke joked a day later to Bas: "When you can arrange a cargo bike, I can also participate next year!" What started as a joke, now begins to take more serious forms. Due to health problems (including difficult to treat asthma and a form of rheumatism) Riemke is not able to cycle this trip. There has been a time when Riemke went out fanatically with her racing bike. Nowadays she is pleased when on a good day, preferably with wind and at a leisurely pace, she can cycle to the mall around the corner and back again. The bicycle union tour committee has approved the bakfiets idea. Bas and Riemke have also been selected to take part in the cycling union tour of 21 May 2018. Cyclone bicycle couriers have made available a suitable Bullitt cargo bike with seat on loan. So that Bas and Riemke can start training and, if everything goes well, experience the fietselfstedentocht together. Bas and Riemke do like to cycle together with the cargo bike that much that they would very much like to purchase their own Bullitt cargo bike. To be able to have fun together while cycling and enjoying the oxygen and being outsides. And Bas and Riemke think it would be great when they can raise money for their own Bullitt bakfiets with their cycling adventure. So that Bas, Riemke and dog Woodstock can go on the cargobike more often. Instead of always having to take the car. Do you grant us to have our own cargo bike? So that we can experience many more of these great moments together? Then make a donation through this page. We would be very grateful to you. Destination donation: Your donation will be spent on the purchase of an (orange) Bullitt cargo bike with accessories. Volg metdebakfiets op facebook en instagram
Stuur een e-mail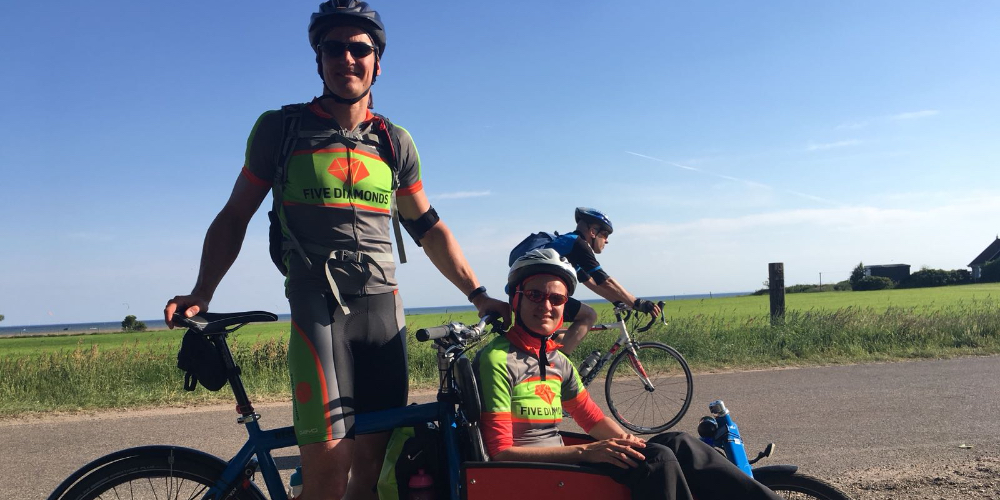 Bas en Riemke en hun bakfiets avontuur tijdens de fietselfstedentocht! Jij kunt ons helpen nog meer mooie bakfiets avonturen aan te gaan.