Dieren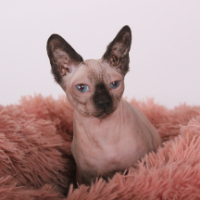 Created by :
Marte ten Broeke
location_on
Location:
Netherlands, Netherlands

Dieren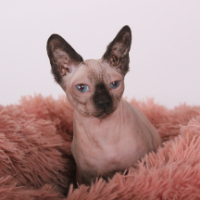 Created by :
Marte ten Broeke
location_on
Location:
Netherlands, Netherlands
Connected fundraisers (0)
'Poes' de 8 maanden jonge sphynx is door ons opgevangen met een flinke evenwichtsstoornis die al 6 maanden gaande is. Om haar een kat waardig bestaan te laten leiden, wordt er hier niet bespaard op medische kosten. Maar om dat alles mogelijk te maken hebben we uw financiele steun hard nodig.
FOR ENGLISH SCROLL DOWN PLEASE
Donaties gezocht!
Een aantal dagen geleden hebben we 'Poes' opgehaald (14 oktober). Een Sphynx van 8 maanden met een flink evenwichtsprobleem, hier loopt ze al zo'n 6 maanden mee rond. Ook is ze erg klein voor haar leeftijd. Ze beweegt veel met haar hoofdje en heeft veel moeite met het bewaren van haar evenwicht. Ze kan bijvoorbeeld wel op de bank klimmen maar niet meer er af. Ook valt ze regelmatig om, loopt ze rondjes en loopt ze tegen dingen aan. Een hoop dierenartsonderzoeken en intensieve verzorging dus, maar we doen het met liefde voor haar. Zolang de kans op herstel nog aanwezig is willen we alles op alles zetten om er achter te gaan komen wat er nou precies aan de hand is en hoe we haar kunnen helpen. Maar daar heb ik jullie hulp bij nodig. De kosten stijgen al snel na een aantal dierenartsbezoeken en er gaan er nog vele volgen waaronder een MRI scan. daarbij is iedere euro aan ondersteuning via een donatie van harte welkom. We gunnen haar een kat waardig bestaan en willen daarvoor vechten.
Donderdag 17 oktober zijn we de eerste keer naar de dierenarts gegaan. Een algemene gezondheidscheck, hartje geluisterd. En in haar oren gekeken. In haar oren zaten te grote proppen oorsmeer dat de trommelvlies niet zichtbaar was. Ook hebben we gekeken of ze niet doof of blind was. Gelukkig is dit niet het geval.
Ze hebben bloed afgenomen om o.a op Fip, toxoplasmose te testen en naar de lever en nieren te kijken. Ik zou ongeveer een week later de uitslag hiervan krijgen. In de tussentijd ben ik met haar gaan trainen om haar te leren focussen. Dit heb gedaan met hersenspelletjes. Dit doet ze ontzettend goed. Het is een echte doorzetter.
Gisteren (23 oktober) hebben we de uitslag gekregen en uit de waardes blijkt dat ze FIP vrij is, Gelukkig !
Lever en nieren waren goed. Er was iets een ontsteking aanwezig, maar echt minimaal. Echter waren de vitamines aan de lage kant. Vooral vitamine B. Omdat vitamine B te kort kan zorgen voor evenwichtsproblemen en een groeiachterstand. Hebben we besloten om een aantal dagen achter elkaar onderhuidse vitamine B injecties te geven. Dit is erg pijnlijk voor haar. Maar hopelijk gaat dit voor haar werken. Na het weekend heb ik weer overleg met de dierenarts en kijken we verder.
Na het injecteren met vitamine B...... moet er snel verbetering zijn. Anders gaat ze 14 dagen op antibiotica tot maximaal 6 maanden (als de kuur aanslaat). Ook gaan we naar een neuroloog voor verder onderzoek op neurologisch gebied, waar een MRI gedaan wordt.
Mochten jullie ons willen helpen, Doneer, Ze zou jullie erg dankbaar zijn!
ENG
Donations needed
As some of you might know, I recently saved Sphynx kitten 'Poes' (Dutch for female cat). She has a balance disorder . She is 8 months old and has been dealing with this problem for 6 months now. She is way to small for her age. She moved a lot with her head and eyes. She never seems to get enough rest in her mind. Her balance is so bad, she can climb on the couch, but is to afraid to get off. She also fals or trips now and then or bumps into stuff.
We had lots of vet care for her and very intensive care, but everything with love. As long as there is a chance of making her live a happy cats life, we will keep fighting. We really want to get to know what's going in with her, so we can help her. But we need your help. De vet bills are piling up and more are on the way. She needs a couple more vet visits and a MRI scan. Every donation is appreciated and very welcome. We want to give her a happy life like cats should have.
On Thursday the 17th of October was our first vet visit. The vet did a health check, checked her ears (which had a lot of grease in them) and checked the frequency of her heartbeat. She is not blind or deaf. The vet also took blood samples to test on FIP virus, toxoplasmosis and to check her kidneys and liver. A week later we'd get the results. Meanwhile I started training her with braingames to learn her to adapt as much as possible on her condition if needed and to learn her how to focus better on objects she wants to climb on or jump off.
On Thursday the 23th of October the results of her bloodwork came, luckily she is FIP free. Her liver and kidneys where fine. There was a bit of an inflammation found in her blood, but very low. The vitamins in her body where pretty low, especially Vitamin B. Because Vitamin B can cause balance problems and the lack of growing up on a normal tempo, we decided to give her vitamin B injections the next four days. It is a painful injection, but it hopefully it will work. After this weekend I have another appointment with the vet to see if the injections had any result.
After the vitamin B treatment, there needs to be a drastic change, if not, she'll get 14 days to 6 months antibiotica (if the treatment works). We will also get her a neurologist to check her and take an MRI
If you'd like to help us, please donate , Poes will be very gratefull
Support this fundraiser by connecting a new fundraiser. All donations are awarded to the parent fundraiser.