Share this fundraiser
Support this fundraiser by connecting a new fundraiser to it. All donations will be assigned to the top level fundraiser.
Connected fundraisers (0)
Dansend naar München
De eerste 500 euro is bereikt! Benieuwd naar het filmpje? Kijk dan op mijn facebook pagina of ga naar de volgende link voor de eerste 30 seconde van mijn nieuwe choreografie! https://youtu.be/NgBy0r4YAa4 Elke 500 euro die op de teller staat maak ik een zelf gechoreografeerd stuk van 30 seconde. 1000 euro op de teller? Dan maak ik er 30 seconde bij. Houd mijn facebook in de gaten! Heb je geen facebook? Mail mij dan op Carlijn.kortekaas@gmail.com Dan kan je je meteen inschrijven voor de maandelijkse nieuwsbrief die in September weer zal beginnen! Hallo! Wat leuk dat je mijn pagina bezoekt. Ik ben Carlijn en ik in september begin ik mijn nieuwe opleiding modern uitvoerend danser in München. Drie en een half jaar geleden ben ik begonnen met het volgen van danslessen. Vanaf toen wist ik eigenlijk al dat dit was wat ik wilde doen voor de rest van mijn leven. Maar ik was me er ook van bewust dat als je begint op je 15e, je wel erg laat bent. Maar dat hield mij niet tegen. Ik heb drie en een half jaar super hard gewerkt. Na twee jaar trainen hier in Nederland bij het Dansatelier Den Haag, werd ik wonder boven wonder aangenomen op Opus Ballet in Florence. Na daar een jaar opleiding te hebben gedaan, besloot ik terug naar Nederland te gaan om verder te trainen voor een andere opleiding. Ik heb super veel geleerd dat jaar en ben enorm gegroeid, maar Opus was niet de school waar ik het beste uit mezelf zou kunnen halen voor nog twee jaar. Terug in Nederland ben ik terug naar het Dansatelier gegaan, heb een vooropleiding gevolgd bij Creating Art Productions, en veel verschillende workshops gedaan als voorbereiding op mijn audities. Dit heeft mij zo goed geholpen dat ik bij verschillende scholen ben aangenomen. Na drie en een half jaar hard werken bij de verschillende dansscholen ben ik eindelijk aangenomen bij mijn droomschool; Iwanson International School of Contemporary Dance in München. Natuurlijk ben in ongelooflijk blij, maar om deze opleiding te kunnen volgen heb ik wel hulp nodig. Omdat het een particuliere school is, en er natuurlijk veel meer bij komt kijken dan alleen het schoolgeld, is het lastig voor mij om deze droom werkelijkheid te maken zonder hulp van anderen. Al het geld wat ik hier ga ophalen, veel of weinig, zal ik gebruiken om o.a. mijn huur te betalen als in eenmaal in München ga wonen. Na een jaar in Florence te hebben gedaan, ben ik enorm gegroeid. Niet alleen als danser, maar ook als persoon. Ik kan me nog herinneren dat ik doodsbang was om alleen naar Florence te gaan. Maar dat heb ik overleefd! Nu ik opnieuw de keuze heb gemaakt om naar het buitenland te gaan, deze keer voor een volledige opleiding, ben ik alweer twee jaar verder. Ik kijk er enorm naar uit mijn avontuur voort te zetten in deze prachtige stad. Ik kan niet wachten om mezelf als danser en persoon uit te dagen bij Iwanson en ik ben ervan overtuigd dat zij me zullen helpen om mijn doelen te behalen. English: Hello! Nice to see you checking out my page. My name is Carlijn and in September I'll be starting my new education performing arts contemporary dance in Munich. Three and a half years ago I started taking dance classes. From then on I already knew that this was what I wanted to do for the rest of my life. But I was also aware that starting at the age of 15 was very late. But that didn't stop me. For three and a half years I worked as hard as possible. After two years of training here in the Netherlands at het Dansatelier Den Haag, and as a miracle I was accepted at Opus Ballet in Florence. After a year of academy, I decided to come to the Netherlands and continue training for a different college. I learned so much that year and had grown a lot too, but Opus wasn't going to be the school were I would be able to challenge myself the best for two more years. Back in the Netherlands I went back to het Dansatelier, started a pre-education at Opus ballet and did a lot of different workshops to prepare myself for the auditions. This had helped me so well that I had been accepted into several schools. After three yearsand a half of hard work at the different schools I have finally been accepted into my dreamschool; Iwanson International School of Contemporary Dance in Munich. I'm thrilled to finally make it, but I do need some help to be able to attend Iwanson. Because Iwanson is a private school, and living abroad takes a lot more than just the money for school, I won't be able to reach this goal without your help. All the money I raise here will be put directly into e.g. my rent, as soon as I start living in Munich. After a year in Florence I have grown a lot. Not only as a dancer, but also as a human being. I can remember I was absolutely terrified to go to Florence on my own. But I survived! Now that I have once again chosen to go live abroad, this time to complete this academic course, I'm two years into the future. I'm thrilled to continue my adventure in this beautiful city. I can't wait to challenge myself as a dancer and a person at Iwanson, and I am convinced they will help me achieve my future goals.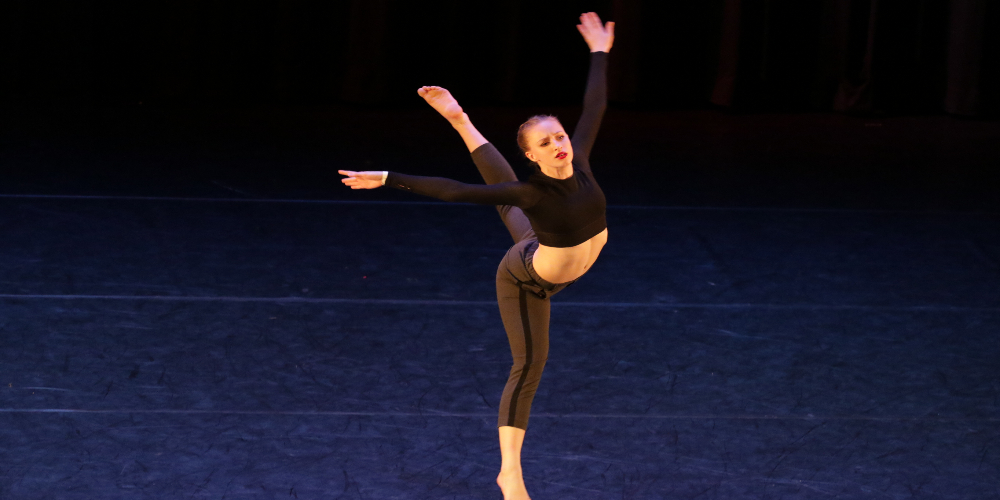 Dit is een van de foto's die is gemaakt tijdens de internationale danswedstrijd Amsterdans