Bless Bradley Fund
Join us in this fight for Bradley. Bradley was diagnosed with Severe Aplastic Anemia it is a rare disease in which the bone marrow .

Gezondheidszorg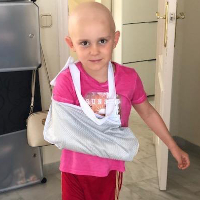 Created by :
jennifer surch
Share this fundraiser
Support this fundraiser by connecting a new fundraiser to it. All donations will be assigned to the top level fundraiser.
Connected fundraisers (0)
Bless Bradley
Join us in this fight for Bradley. Bradley was diagnosed with Severe Aplastic Anemia it is a rare disease in which the bone marrow . It was discovered after a regular doctor's appointment because he looked a bit pale and had lost weight. The doctor did some analytics and with the results initially told me it was leukemia. This was the worst day of my life I think its safe to say. He was admitted to Malaga hospital on that day, April the 14th for blood transfusions. Since this point he has had Chemotherapy a bone-marrow transplant, we spent weeks in the Isolation unit and on Friday the 20th finally we were released back home. In Spain you need to be with your child in hospital 24 hours a day, you administer the medicine, wash and feed your child. His dad who lived in England came over to help the first day Bradley was diagnosed and we were in hospital. After 3 weeks he received an email from his employers sacking him 'as sympathetic to your situation as we are... they went onto say ..' and they terminated his employment. Neither of us could work through this period of time as we took turns looking after Bradley in hospital and looking after our daughter at home. It was a very fraught time. The chemotherapy worked, his body accepted the bone-marrow transplant, he currently has a virus and is on antibiotics, he takes many medicines each day. There will be no school for 1 year and he needs to stay in the house, if he goes outside he needs to wear a mask. He is very weak, his body is frail and even a cough or cold could kill him. We have had many bills for medicines and continue weekly to buy a long list of medicines from the pharmacy, petrol to and from Malaga Toll roads, and all our usual utility bills and house rental, these have all pilled up and we will continue to struggle until his father gets work out here in Spain, Gibralter or has to return to the UK, I cannot work until Bradley is back at school though I will try to work. Please help us survive in this fight to get Bradley back to his full health so he can go back to school and enjoy a normal life in good health. We need to survive through this period of time, one year out of his little life is not much in order for him to recover from this illness, but it is a long time to struggle financially to pay rent and bills when I cannot work with Bradley at home needing my full time care and attention as a 6 year old does that is stuck in the house all the time frustrated.